If I know what love is, it is because of you
The days are small and repeated, but they are all happiness
The best gift is the expected warmth and unexpected surprises, falling into beauty and overflowing with tenderness.
Valentine's Day gift recommendation
Joyful
Give your loved one a special gift
Love is like a piece of chocolate, every bite is a sweet memory, ChocoNext launched five new flavors of chocolate (apple cinnamon, mixed berry, brown rice tea, coconut strawberry and walnut French omelette)
Preserved Flower Chocolate Gift Box
CHOCONEXT X LOVEBITE has received great acclaim since the first joint launch of the Valentine's Day limited gift box in 2022.
There are six kinds of preserved flowers in different colors in the Valentine's Day preserved flower gift box. In addition to preserved flowers, the gift box also comes with a jar of wild bluebell scented candles and a box of ChocoNext's special chocolate gift box.
Preserved flower symbolizes eternal love. When you smell the floral fragrance, you will feel like you are in a sea of flowers in full bloom.
This is not just a gift, but a promise. Let us help you tailor this Valentine's Day gift just for her.
Talk to me Chocolate boxes
People are used to hiding their thoughts in the bottom of their hearts...and don't know how to express them.
Talk to me chocolate will convey this hesitant heart for you to your special one through the unique taste of Sleeping Volcano chocolate and exquisite cards.
Four Themes|Four Meanings

Miss you 【Mile Feuille|Strawberry Shortbread】
Sorry 【Salted Banoffee|Pecan Pie with Walnut Corn Syrup】
Wonderful 【Soybean flour Abekawa Kinako|Pistachio Delight】
Goodbye 【Rose Passion Fruit|Sakura Genmaicha】


*Where you buy any talk to me chocolate gift box, you will get a pack of talk to me coffee with the same taste.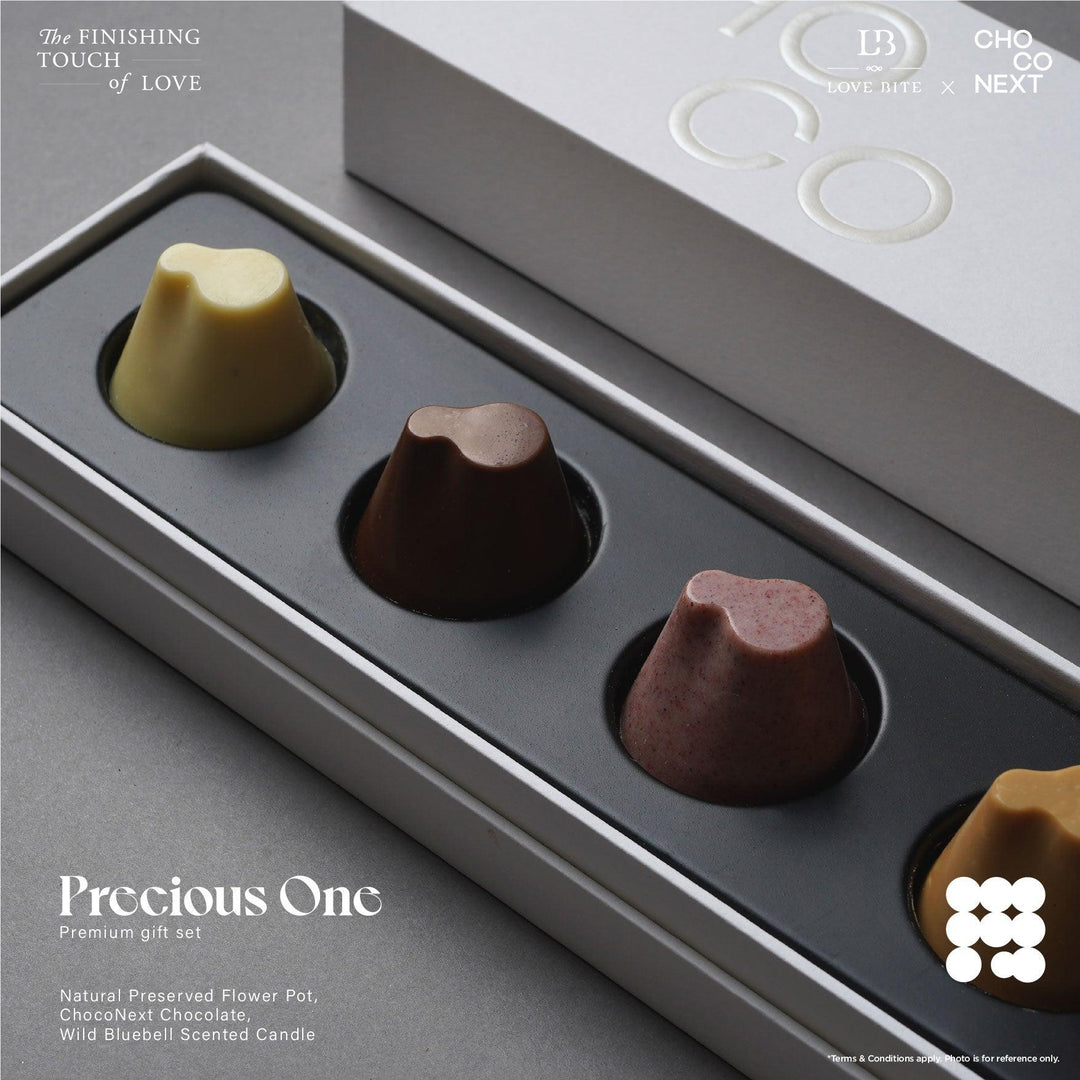 The origin of giving chocolate on Valentine's Day
In the Middle Ages, men would take the initiative to express their love to women. At that time, knights would present roses to girls and sing to praise the beauty of girls. But sugar was still rare at this time, so there was no candy exchange early in the development of Valentine's Day.
In the Victorian period in the 1840s, Valentine's Day became popular in the West, and people would send cards and gifts to express their love. At this time, the British Richard Cadbury (Richard Cadbury) inherited the Cadbury chocolate family business. He improved the technology of making chocolate, extracted pure cocoa butter from cocoa beans, and made delicious chocolate drinks, and the remaining cocoa butter was made Edible chocolate.
Afterward, Cadbury realized that this was a good business opportunity, so they began to sell chocolates in exquisite boxes. Many people believe that Cadbury was the first to put chocolate in a heart-shaped box. This design kills two birds with one stone. After the chocolate is finished, the exquisite box can store love letters, souvenirs and other memories. Since then, chocolate has gradually symbolized love in the West, and has also become a classic gift on Valentine's Day.


Valentine's day customs
At first, Valentine's Day was the most popular in Britain. At that time, it was popular to write the names of the local unmarried men and women on the slips of paper, and put the names of the men and women in different boxes. Then unmarried men and women go to the box containing the names of the opposite sex to draw lots.
When names are drawn, they exchange gifts with each other. A woman becomes a man's "Valentine" this year. Women will also embroider the woman's name on the man's sleeve, and it becomes the man's sacred duty to take care of and protect the woman.
Valentine's Day features couples giving each other gifts. Today, people like to express their love to their lovers with valentine cards. Valentine's cards usually feature Cupid, a heart shot by an arrow, etc.